Seedstor -K® Hopper Bottom Bins
Designed with a unique knock-down cone.
SeedStor has come to be known for its super fast, controlled unloading capabilities and affordable all-in-one price. SeedStor-K provides the same high quality bin/cone combination as SeedStor with the advantages of a unique knock-down cone design. This design allows the cone to be shipped flat and assembled on site, providing significant savings on transportation costs. And, because the cone is built as an integral part of the bin, assembly will be quicker, more precise and will produce an overall more dependable product.
Exceptional Bin Clean-Out
Unlike some competitive bins which use light internal stiffeners backed by foam, SeedStor-K has no internal stiffeners, thereby eliminating the potential for grain or product hang-up. This in turn reduces the likelihood of fungus growth and insect infestation.
Ideal for Identity Preserved Seed
SeedStor-K incorporates the latest in storage technology, making it perfect for the storage of identity preserved seed and today's higher density crops such as durum and peas. Because the cone is designed to be an extension of the bin, optimal structural integrity is obtained for the strongest bin/cone combination anywhere.
Designed for Optimal Strength
Engineered for exceptional strength, SeedStor-K has been tested to 50% overload so it can handle any crop without fear of structural failure. It features Hollow Structural Section (HSS ) steel construction legs for superior vertical and lateral strength.
Guaranteed to Last
Mounting a bin on an unmatched cone can cause failure of the ring beam, thereby causing structural failure of the bin wall. Because of this, most bin warranties in the industry are voided if a non-manufacturer approved cone is installed under the bin. With SeedStor-K, you have peace of mind knowing both the bin and the cone are made by and warranted by Westeel, even for the storage of peas.
Standard Equipment
Westeel Wide-Corr® quality bin. Westeel knock-down hopper design with a 45˚ cone slope for 15 to 21′ models, and a 40˚ cone slope for 24′ and 27′ models. Galvanized hopper sheets and tubular leg braces. Powder-coated ring beam and legs. 16″ cone opening  Remote cap opener. Roof inspection hatch. Roof ladder. Grain Gauge™
Optional Accessories
Rack and pinion shut-off. Aeration (heavy duty versions only). Wall ladders. Spiral stairs. Roof inspection hatch reinforcing kit. Removable hopper to ground ladder. Roof vents. Safety cages. Pass-through rails. Bolt-on inspection hatch. Catwalks. Platforms. Easycheck™ temperature and moisture cables
A. All SSK models now feature a more efficient ring beam
B. Controlled from ground level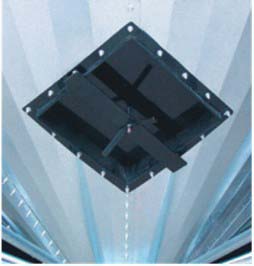 D. Bolt-on inspection hatch
E. Pass-through rail, shown without recommended safety cage