The Inline SIVTEK®
Benefits
Low headroom design that easily fits into existing product lines
Low manpower & maintenance costs
Feeding Inlet and material discharge Outlet in same centerline helps in reduction of process time by reducing the movement of material
User friendly
Very easy to operate
Inlets and outlets can be customized to meet existing plant requirements
Available with Clean in Place systems
Quick mesh change system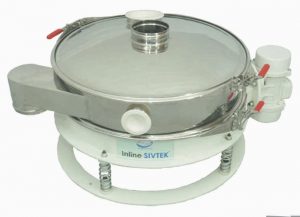 The Inline SIVTEK® is a unique high efficiency & low headroom separator. This is made possible by developing a unique design that generates three dimensional motion and allows maximum throughput of material.
Three standard sizes with 18", 24", 30", 40", 48" and 60" diameter to meet your screening & separation needs. (Dual motor option available on request.)
Add-on Options:
Magnetic Separator
Unwanted iron particles from up stream processes such as milling can contaminate your final product. This can be fitted for safeguarding your product quality.
Bag Dump Station
Designed for easy bag-emptying & check screening of raw materials, where operator protection is essential & product quality must be beyond criticism.
Vibrasonic® Deblinding System
Enable you to sieve your powders on finer meshes with more accuracy than ever before. This improves the quality of your final products as well as their value.